Foie Royale
Ganzenlever is verrukkelijk. Niet voor niets hebben sterrenrestaurants in heel Europa het op de kaart staan, ondanks het omstreden karakter ervan. Met Foie Royale kunt u ook thuis uw inspiratie weer helemaal de vrije loop laten. Zonder gewetensnood, want geen dier die ervan wakker ligt!
Wie zitten er achter Foie Royale?
Dat zijn topkok Jonnie Boer en Oos Kesbeke, bekend van het tafelzuur. Deze 2 professionals zijn altijd op zoek naar nieuwe smaakcombinaties en daarin graag en succesvol samenwerken. Wellicht kent u ze wel van die mooie potjes (van Jonnie&Oos) met pittige cornichons of gerookte bietjes en ander ingemaakt lekkers. Dit Dreamteam heeft nou eenmaal een neus voor unieke producten. Dus toen ze hoorden dat Joeri Groot een diervriendelijk alternatief voor foie gras had uitgevonden, wisten ze dat ze iets bijzonders te pakken hadden. Want foie gras is verrukkelijk, maar als je weet hoe het gemaakt wordt, verliest het zijn glans. Gelukkig is de praktijk van het dwangvoederen in steeds meer landen in Europa bij wet verboden.
En nu is er dus Foie Royale...
Foie Royale is niet van foie gras te onderscheiden. Maar het baanbrekende verschil is dat het compleet diervriendelijk wordt geproduceerd. En dat was voor Oos en Jonnie doorslaggevend. Zij zien Foie Royale als een culinaire sensatie en een volwaardig alternatief voor foie gras. Als het aan Oos en Jonnie ligt, kiest elke topkok en elke thuiskok in Nederland en Europa nu en in de toekomst voor de diervriendelijke ganzen- en eendenlever van Foie Royale. Foie Royale: 100 % diervriendelijk, maar wel beestachtig lekker. Wat wil je nog meer….?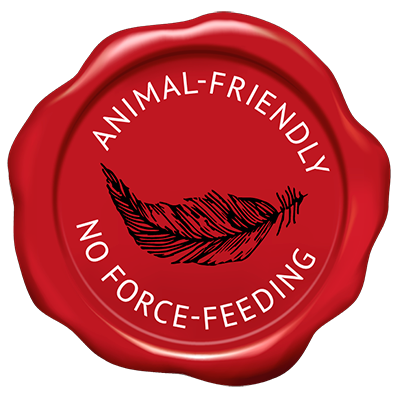 Looking for something special?
We would love to help you.