To order
Via our website you can choose from more than 750 products. Thanks to our handy navigation you can search per category which piece of meat or which sauce or rub suits you best. In addition to searching via our navigation bar, you can of course also search via our search function at the top of the homepage. All search results are clearly displayed for you and can be sorted from A to Z and vice versa.
Once you have found what you were looking for and placed it in the shopping cart, you can easily complete your order via this shopping cart. If you already have an account and are logged in, you will immediately see your details at checkout. If you do not have an account yet, you can easily create one now. As soon as you are in the shopping cart you can also redeem a gift voucher. You enter the code in the appropriate window and the amount will be settled immediately.
If you still need help with logging in, with ordering or if you just like having someone on the phone to help you, you can always contact us on 0172-577147. We can speak to you by phone every working day between 9:00 am and 5:30 pm.
What are the delivery times?
Our packages are delivered on Tuesday to Friday between 5:00 PM and 10:00 PM. This can be any address within the Netherlands or Belgium, with the exception of the Wadden Islands and French-speaking Belgium. After your order we will register your package and you will receive an e-mail from the carrier with the chosen time window. With the track and trace data sent you can easily track your package online. You can pass on any delivery instructions to the driver via a live chat.
On the day of delivery you will receive an e-mail with the track and trace data around 3:00 PM. With this you can also consult the time window within which delivery will be made. We recommend that you be present at the address of your choice at the time of delivery. In the unlikely event that you are not at home, we recommend that you give a delivery instruction to the driver. For example, to which neighbors the package can and may be delivered. If you are not at home and you have not communicated anything, the driver will try to deliver the package to one of the neighbors. Please keep an eye on the reports about this and make sure the neighbors are aware that there are meat products in the box and that they should be kept in the refrigerator or in the freezer.
Which delivery days do we use?
We deliver on Tuesday to Friday. During the ordering process you can choose the desired day yourself and pre-order and plan. If you want your package to be delivered as soon as possible, the following deadlines apply:
Delivery Tuesday evening; order before Tuesday 11:00 am
Delivery Wednesday evening; order before Wednesday 11:00 am
Delivery Thursday evening; order before Thursday 11:00 am
Delivery Friday evening; order before Friday 11:00 am
Orders placed after Friday 11:00 am can be delivered from the following Tuesday
Take Away
Of course you can also pick up your order from us in Ter Aar. You can select this as the shipping method. Once you have placed the order, you can normally collect your order within an hour. Collection is possible on weekdays between 09:00 and 17:30 and on Saturdays between 09:00 and 15:00. You are also welcome without pre-ordering. Keep in mind that you have to wait until we have the order ready. Fortunately, we have delicious coffee!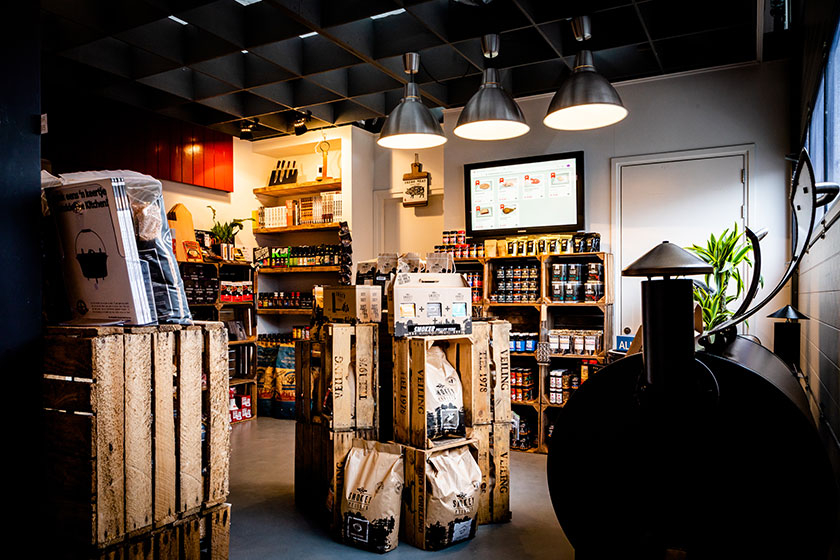 Our location:
Stobbeweg 15
2461 EX Ter Aar
(Industrial Estate Bovenland)
Our sustainable packaging
We attach great importance to sustainable packaging. For that reason we do not use polystyrene foam (EPS) or other environmentally polluting packaging. The used packaging is fully recyclable, biodegradable and / or reusable.
Your order will be neatly packed in a cool sleeve. You will find ice packs in the cool bag. These frozen ice packs ensure that your products stay at the right temperature. The contents of the ice packs are 100% natural and environmentally friendly. You can cut the ice packs open after use and dispose of the contents through the sink. Make sure that the ice packs are at room temperature, this will be easier. You can then dispose of the packaging with the residual waste. You can of course also reuse the ice packs at home to keep everything at the right temperature during shopping or a day at the beach.
The cool sleeve with gel packs must of course be transported insulated. We pack this cool bag in a recycled outer box which is made from 100% recycled paper, just like the outer boxes. You can give the box with the waste paper.
In this way we have put together a suitable packaging where you receive the order in the right condition and we all consciously save the nature around us.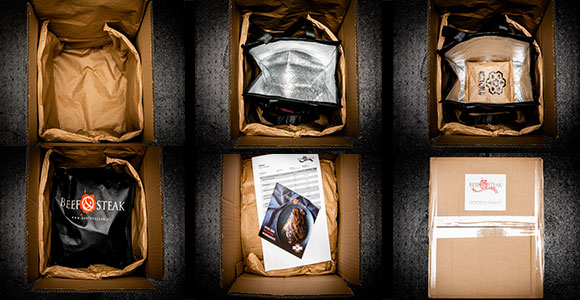 Are shipping costs charged?
Sending perishable goods is a complicated process. It is very important that the products are transported under certain conditions and delivered at the right temperature. For that reason, the costs incurred for this are also higher than when sending a book. Of course we try to keep these costs as low as possible. We use the following shipping costs:
For orders up to € 35, we charge € 9.95 in shipping costs
For orders between € 35 and € 70 we charge € 6.95 in shipping costs
Orders over € 70 are free of shipping costs
It is of course a waste of the packaging and the transporter's journey to place a very small order. It therefore pays to fill your shopping cart properly, both for you and for the environment.
Tips for keeping your products at home
Once your order has arrived, we recommend that you place it directly in the freezer. On the labels on the products you can find the shelf life of these products if you keep them in the freezer. This can almost always be kept for at least 3 months at -18 degrees Celsius. If you want to use the products, it is best to remove them from the freezer 1-2 days in advance and place them in the refrigerator. After thawing, the products have a limited shelf life and we do not recommend freezing again.
In the unlikely event that you have forgotten to take your meat out of the freezer, you can defrost it more quickly. Check whether the packaging is still properly vacuumed. If this is the case, you can place the meat, packaging and all, in a container of cold running water. In this way, a product is thawed faster. If the packaging is no longer vacuum, you can NOT use this method.
When will deliveries be made on the Wadden Islands and in French-speaking Belgium?
We currently deliver once a week in French-speaking Belgium. On Tuesday afternoon we transfer the packages to PostNL. These parcels are sorted the same evening in the sorting center and then delivered within 24 to 48 hours. We pack these packages in EPS boxes with gel packs inside. This keeps everything cooled for up to 48 hours. Unfortunately we cannot give a deep-freeze guarantee on these deliveries. We use the following deadlines:
Delivery Wednesday / Thursday during the day; order before Tuesday 12:00 pm
For orders to Belgium we charge standard € 9.95 to € 12.95 shipping costs. Orders over € 150 are free of shipping costs.
Return and Refund Policy
When purchasing products, the consumer has the option to dissolve the contract without giving any reason within 14 days. After cancellation you have another 14 days to return your product. You will then be credited with the full order amount including shipping costs. This reflection period starts on the day after receipt of the product by the consumer. This does not apply to perishable goods such as meat and fish. In that case, returns are not possible.
During the reflection period, the consumer will handle the product and packaging with care. He will only unpack or use the product to the extent necessary to assess whether he wishes to keep the product. If he makes use of his right of withdrawal, he will return the product with all accessories supplied and - if reasonably possible - in its original condition and packaging.