Goose with mashed patatoes and sauerkraut
Delightful filled goose!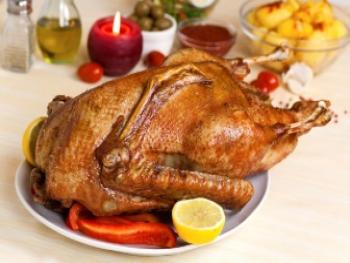 Bereidingstijd: 210 minuten
Ingredienten
1 goose ready to cook (ca. 4 kg)
2 biological oranges
3 onions
2 Tsp dried mugwort
2 bay leaves
Salt
Kitchen twine
Bereiding
• Save the lard for the sauce. Remove the wingtips of the goose and use them for the sauce as well.
• Chop the oranges and onions in pieces. Mix it with the mugwort and the bay leaves. Fill up the goose with these ingrediënts. Tie the legs of the goose loosely together with kitchen twine. Rub the goose firmly with salt. Put the goose in a deep oven dish with its chest down. Add 100-200 ml of water. Put the goose in a preheated oven on the bottum shelf and roast it for 30 minutes.
• Turn the goose around and let it roast for another 2,5 hours. Pour its own fat on the goose for the first time after an hour. Repeat this after that every 30 minutes.
• Increase the temperature of the oven to 220°C 15 minutes before the cooking is over. Cut the goose and serve it with mashed patatoes and sauerkraut.