Buffalo Chicken Wings
Real hot wings at your finger-licking.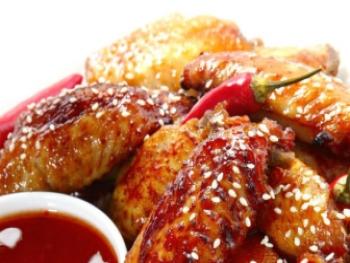 Bereidingstijd: 100 minuten
Ingredienten
Ingredients:
115 grams butter
120 ml Stockyard Memphis Red
1 teaspoon paprika
1 teaspoon cayenne pepper
1 teaspoon salt
1 pinch garlic powder
Pepper to taste
125 gram flour
Bereiding
: Mix in a bowl the flour, paprika, cayenne pepper and salt. Add the chicken wings and mix the flour mixture until the wings are completely covered. Consider the bowl and Allow 1 to 1 1 / 2 hours rest in the refrigerator.

Re-heat the butter, the Southwestern sauce and garlic powder on a low heat until the butter has melted and the butter and the sauce well mixed. Remove the sauce from the heat and keep warm.

Preheat the fryer to 190 degrees Celsius. Fry the chicken wings in about 10 to 15 minutes until golden. Allow to drain and place in a bowl. Add the sauce and stir just until evenly coated the wings with the sauce. Serve with celery and blue cheese dressing.